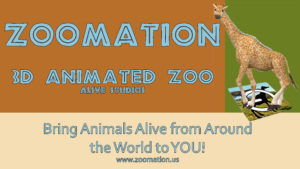 Ken & Georgia bring a wonderfully innovative, animal-centered program of songs and stories featuring American Sign Language (ASL) to your library.  They have performed over 2,000 musical and storytelling programs combined at schools, libraries and community events throughout Southern California.  They travel across the country facilitating workshops on how to incorporate singing and signing into the lives of children, from birth to elementary.  They co-produced the award-winning We Sign DVD series combining music and ASL for learning core concepts.  Their Sign to Speak book series provide parents, teachers and caregivers with the "how-to's" of using ASL with infants and toddlers and their Play Along Songs series of books is packed with dozens of fun and highly interactive new and traditional songs for parents and teachers to use with their children.
Video Sample Coming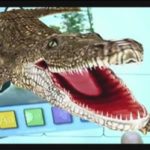 Programs Available:
Zoomation – PreK, K-6, Family
---
Zoomation
Zoomation is a non-live animal 3-dimensional animated zoo presentation with additional animal puppets and songs, featuring American Sign Language (ASL) that together bring to life animals (birds, reptiles, and land and sea mammals) from oceans, deserts, mountains, jungles and forests of the world.
Zoomation brings to life our 3D animals on an 8-foot screen where they move around, make sounds and demonstrate via video life in their habitat.  If animals could talk, our larger-than-life, animal puppets will interact with the children and help tell stories.
Children will engage with a lion, elephant, seal, narwhal, jaguar, alligator, orangutan, bear, wolf and many more.  The goal of all Zoomation programs is to offer greater understanding of the animals of the world while inspiring understanding and fostering conservation of these animals and habitats.
You will meet a wide variety of puppet animals who help bring information and stories to life in our presentation.  Animal puppets are chosen for the age group involved in the presentation.  Animal puppets can include: Beaver, Tiger, Barry Bear, The Great White Bear, Dusty the Dog, Marshmallow the Horse and more!
In the Zoomation program, everyone will sing along with animals in songs that will feature ASL like: "Alligator, Alligator, What Do You Say?", "Blue, Blue My Giraffe is Blue" and "The Great Big Horse."
Join Zoomation Zookeepers Ken & Georgia for this fun, interactive and informative animal presentation that is very different from any animal presentation you've EVER experienced!