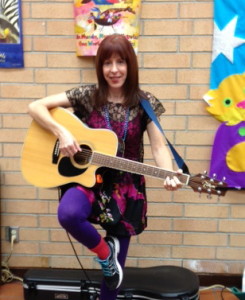 Wendy Hersh, aka WENDEE has had a lifetime of musical training and performing experience. WENDEE's brand of children's music brings a new sound and lyric variation to the young ears of America.  Her ease in entertaining young children, while communicating educational ideas and having fun through song are WENDEE's trademark.
Programs Available:
Where the Wild Rhythms Are – PreK, K-6, Family
I'm Taking Care of Me – PreK, K-3
---
Where the Wild Rhythms Are
Let the wild rumpus begin!  Alligators, Hippos, Bunnies, Lions, Cheetahs – go on a wild music adventure with playful songs, zany dances, puppet friends, and wild sounds and rhythms about animals and other wild furry things.  This highly interactive, colorful show will have you singing and dancing along and learning something new.
I'm Taking Care of Me
Through song, stories, dance and puppetry, children learn about various aspects of maintaining personal health and well being. Topics include nutrition, exercise, hygiene, reading, self-esteem. This is no preachy program, just a fun introduction that can be built upon.