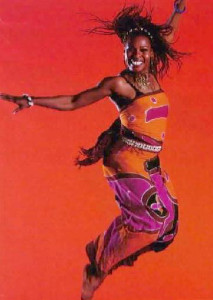 Teresa Smith will bring highly interactive African dance, story, and song to your event.  She comes costumed in brilliant colors to reflect African heritage and will engage everyone with her smile, warmth, and enthusiasm.  Her programs are great for preschool, library, city, and community events. See our African Drum and Dance program for elementary school assemblies.
Dancer, choreographer, instructor and performer, Teresa Smith has been studying dance from the tender age of seven.  Having studied intensively multiple forms and styles of dance, Teresa has performed with the likes of MC Hammer, Sheila E, Akon, Shakira and Le Ballet de Kouman Kele.
Programs Available:
African Dance Rhythms – PreK, K-6, Family


---
Dance with Teresa as she explores the many cultural differences in musical movement and style of African dance.  Audiences will experience how total body expressive movements teach social patterns and values, help people work and celebrate and connect with the community.  Everyone will participate because in African dance even the spectators are part of the performance!