"PUMP" up your advertising with Dream Shapers!!!
Presenters Ultimate Marketing Program "PUMP" is designed to help you maximize your advertising dollars!  Team up with Dream Shapers to mail postcards to potential customers throughout Southern California at a fraction of the cost.
PUMP allows presenters to market and promote themselves.
Provide Programming Information
Include Pricing Information
List Website, email, and website information
Include Engaging Photographs
Be Receive Seal of Excellence from Dream Shapers
SAVE by using Dream Shaper's mailing lists, mailing capabilities, and non-profit mailing fees to several targeted Markets:
Schools – public and private (not including LAUSD and some other additional areas)
Libraries – LA County, Inland Empire, Los Angeles Public Libraries, Ventura County and San Diego County
Cities and Summer Camps
Preschools
Select one template from four 6″ X 9″ postcard choices.  You provide the images and text.  We import it into your chosen postcard, send you a proof for approval and mail it out for you.  It's that simple! (Click on any image for a closer look)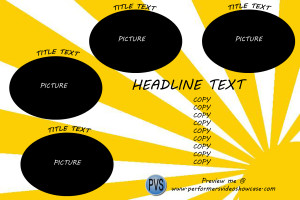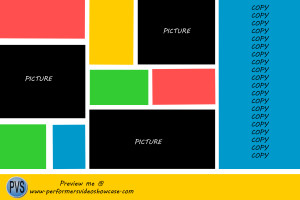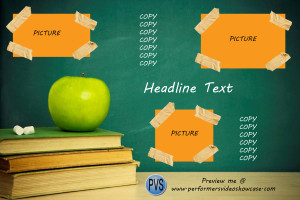 Spacing is limited.  Only 3 artists per category, per advertising month (see mailing calendar for details).
PUMP Partnership Post Cards
Partnership Post Cards – are a great way generate exposure to selected markets and save even more money.  You can choose to partner with another artist and split the costs and advertising space.  You can also talk to us about possible partners for a mailing.  Call us to discuss this at (888) 499-1270.
PUMP Mailing Calendar
January:        Ideal for Library Marketing
February:      Ideal for Library  and City/Summer Camp Marketing.
                          Time to sign up for City Directory Mailing
March:            Ideal for City/Summer Camp and Preschool Marketing
                          Time to sign up for School Directory Marketing
April:               Ideal for School Marketing
May:                  Ideal for School Marketing
July:                  Ideal for Library Seasonal Marketing and School Marketing
August:            Ideal for Library  and School Marketing
September:    Ideal for  School Marketing
October:         Time to sign up for Library Directories and Showcases
November:     Ideal for Library Marketing Packages
Contact Us 2 months in advance of your desired mailing for pricing and printing information.
Requirements:
You must have participated in a directory, showcase, or past mailing with Dream Shapers.
If you are new to Dream Shapers you must meet new artist requirements.  Call us to discuss this (888) 499-1270
Images submitted must be 300 dpi minimum.
We must print your materials.
Your contact information is used, but Dream Shapers bulk mailing stamp and address and website information must also be added.
Payment in full must be received prior to printing
You can supply your personal mailing list to us to take advantage of our bulk mailing rates. To do so, a separate fee is assessed for additional processing with the post office. Please contact us for a quote.
Fees:
All inclusive rates account for: design time, set up and proofs, printing and mailing! You supply the photos and text, we'll take care of the rest.
School mailing:
Library mailing:
City/Summer Camp mailing:
As little as  $1095.00
As little as $495.00
As little as $495.00