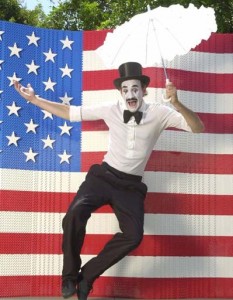 Mark Wenzel, one of the world's premiere mime and street performers, provides fun, entertaining, and educational children's and family shows for preschools, elementary schools, libraries, fairs, festivals, city, and community events.  Mark has entertained at 3 World's Fairs, created the mime program while performing as the the official mime at Sea World for 10 years, was featured at HBO's Comic Relief and the Montreal International Comedy Festival, and has performed internationally in Japan, China, Indonesia, England, Mexico.
His programs are designed to entertain and educate audiences about this intriguing art form. His walk around street antics brings a level of roving entertainment that engages and delights children and adults alike.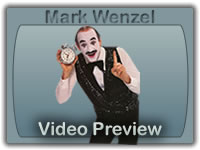 Programs Available:
The Art of Mime – K-6, Family
Roving Entertainment – K-6, Family
---
The Art of Mime
Program features the theatre of mime.  Mark's explanation and performance of the art form captures the audience's attention completely.  The program is entertaining and educational as Mark depicts and explains the art form as well as showing how audiences can apply mime to their every day lives.  mark has performed at schools across the U.S. and was the resident mime at Disneyland and Sea World.
Roving Entertainment
Mark's unique style of guest interactive has wide appeal.  From riding his unicycle to engage crowds with his family-friend, comedy antics, he gets laughs wherever he performs.