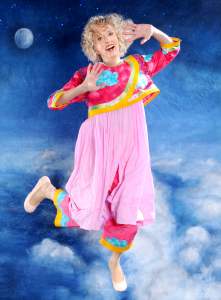 Karen Rae Kraut combines songs, stories, and movement into her own quirky,high-energy brand of variety entertainment, which positively overflows with audience participation.  Since 1990, Karen has been wowing Southern California audiences with her one-woman shows that entertain, uplift the spirit, and foster emergent and early literacy.
Karen Rae is also known for her holiday-themed programs such as: Lunar New Year (the Chinese Zodiac), Earth Day, Diwali – Festival of Lights, Halloween, Dia De Los Muertos, Thanksgiving, and Winter Solstice.
                                            Programs Available: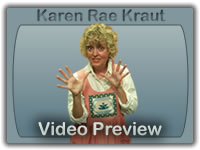 I Dream A World – K-6, Family
The Call of the Road – K-6, Family
Into the Gobbly Sea – PreK, K-6, Family
The Hungry Giant – K-6, Family
Don't Ever Step on a Snake – K-6, Family
I Wanna Be a Dog  – PreK, K-6, Family
La Mariposa and Friends – PreK, Family
Animal Tales and Tunes for Pre-School – PreK, Family
Stories of the Earth and Sky – K-6, Family
---
I Dream A World
Meet fantastical visionaries who make their wildest dreams come true in these stories and songs, all framed by a glorious 10′ x 10′ moon and cloud skyscape backdrop.  Kids will learn the dream dance and lots of really good reasons to go to bed on time!  Volunteers amaze their fascinating dream facts!  Stories and activities for the whole family!
The Call of the Road: Stories of Adventure, Danger, Mystery Away from Home
Young adventurers challenge the unknown in these stories of spine-tingling encounters with stinky spirits and belly button stealing, hairy monsters.  Lots of movement and music add to the language-rich fun of it all!
Into the Gobbly Sea
Follow Karen Rae "Into the Gobbly Sea,"  There you'll find stories of strange visitors who emerge from the depths of a mysterious ocean world.  Their magical gifts bring joy, breathtaking adventures, and close-your-eyes danger.  Music, songs, volunteers on stage, large projected images and Japanese Picture Theatre round out this multimedia production.
The Hungry Giant
Karen Rae Kraut joins forces with guitar virtuoso Jay DeAngelo in this thrilling program.  In a world where giants roam the forest and wolves can speak, one boy must carry out a daring rescue or die!  Theatre, music, and visual art join hands in this show featuring music, songs, stories, object animation, and lots of audience participation.
Don't Ever Step on a Snake
This lively program features all the animals of the forest and the plains with Snake playing the lead.  Karen Rae Kraut will offer up snake songs and stories sparked by a live soundtrack provided by virtuoso musician Jay DeAngelo!
I Wanna Be A Dog
A one-woman variety show of stories, songs, riddles, and poems that chronicle the antics and adventures of one four-legged friends.  Stories from Tanzania, the U.S., and Mexico.  Music, songs, and audience participation round out this bilingual program.
La Mariposa and Friends
Join La Mariposa, the little butterfly, Turtle of Koka, and the Doodle Bug in stories and songs in which the little creatures face some hair-raising adventures with two-legged and four-legged predators.  Songs, riddles, stories, and movement activities make for lots of audience involvement.  Program can be bilingual.
Animal Tales and Tunes for Preschool
The Teeny Weeny Bog searches for the perfect pet in this highly interactive program for preschoolers.  Songs, nursery rhymes, drawing stories, and singing games make this an engaging preschool program that will keep little wigglers involved from start to finish.
Stories of the Earth and Sky
How did the sun and moon get up with the sky?  What about the stars?  This program includes answers provided by the ancient Aztecs, and other primary peoples of North and South America.  Engaging visuals strung across a clothesline makes this a program which will hold the audience's interest.