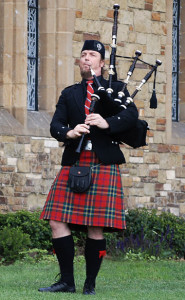 Children's and family audiences enjoy an authentic highland bagpipe experience with John McLean Allan.  All John's programs include a brief history on the highland bagpipe and its influence on the Scottish culture and tradition.  John Scottish dress is also explained including his family's personal tartan!  John has musical experiences for everyone: preschool, elementary school, roving entertainment, cities, community events, libraries and more.
John moved from Scotland to Los Angeles to pursue a music career and has been lucky enough to be a professional musician for over 16 years.  John has played with the likes of Korn, The Chieftains, Michael Flattley, and Charlotte Church.  He's appeared in numerous movies, TV shows and stage comedies such as Oscar-winning Best Picture – Million Dollar Baby, Austin Powers 2, Primary Colors, The Tonight Show, The West Wing, Always Sunny in Philadelphia, Providence and many others.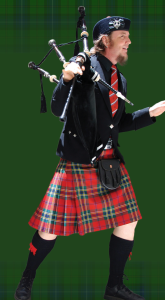 Program Available:
The Rhythm of Scotland – PreK, K-6, YA, Family
Bagpipes, Heroes, and Me – PreK, K-6, YA, Family
---
The Rhythm of Scotland
The beat of the hills of Scotland are kept by the highland bagpipes.  John gives a brief history of this unique instrument and how its usage influenced the culture and tradition of Scotland. John comes dressed in beautiful Scottish regalia and explains his dress including his family's personal tartan.  As he play, he teaches a very basic jig so everyone can get up and dance along.  Be amazed by sound that formed a nation!
Bagpipes, Heroes and Me
As a youngster, John grew up hearing stories of the brave men who accompanied the British military during combat and often times led them into battle playing the commanding highland bagpipe.   In this program, he will share the stories and sounds that inspired him to be brave as well and lead the way!