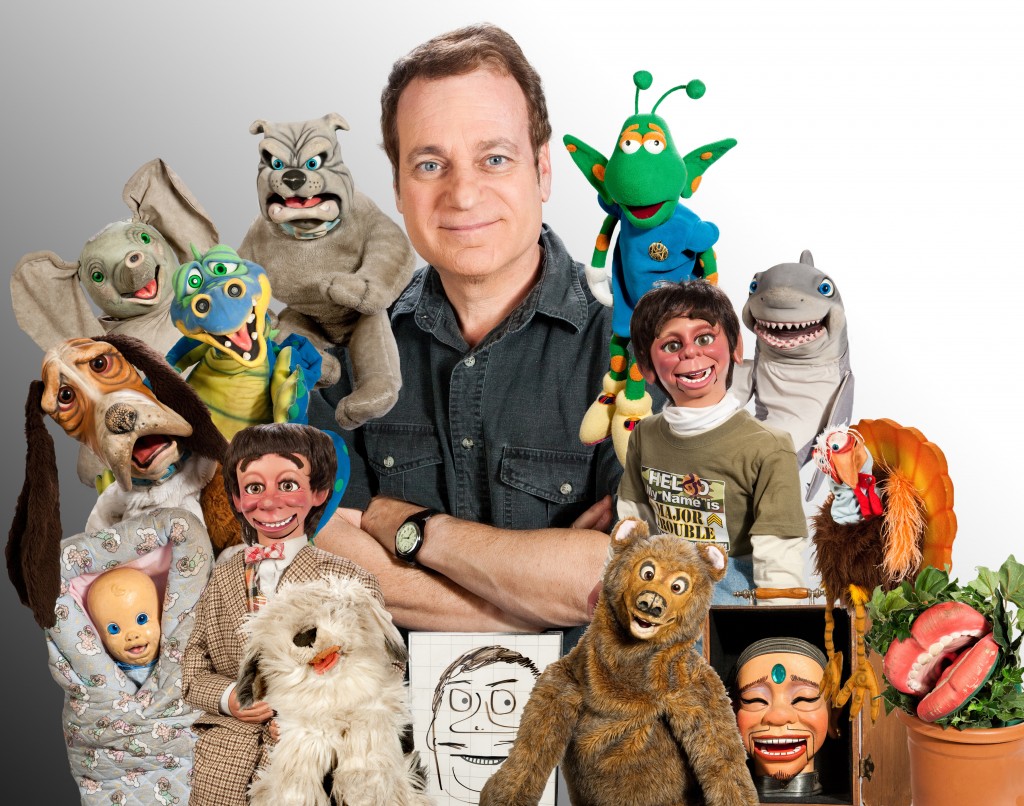 Joe Gandelman offers puppet shows featuring the art of ventriloquism. Each show features a variety of puppets in comedic skits that children and family audiences have laugh out loud fun.  Themes for preschools, elementary schools, fairs, and more. He has done countless shows in venues throughout the country.  He has performed on historical vaudevillian stages, at schools, private homes, fairs, festivals and even on boats.  A show may include "star" John Raven, the genie head-in-the box, and the grumpy bulldog, nervous turkey, or even a green Martian! Joe changes his "cast" from time to time and shows can also be bilingual, if requested.
His library shows are famous for being fast-moving, with a BIG cast of high-visual wooden and puppet characters plus his famous lip sync number where Joe "throws" his voice into volunteers.  All of his shows are packed with laughs, quick segments, and character interaction.  Meanwhile, in his acclaimed school assemblies, Joe combines BIG LAUGHS with his increasingly famous Learning through Laughter® technique getting information across to students of ALL ages in an entertaining – and highly retaining – form.  He does elementary, middle, junior, and high school assemblies all over the country. He performs at city events as a stage act or walk around entertainer.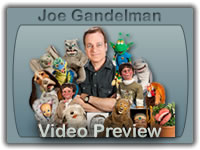 Programs Available:
Secrets of Ventriloquism – K-6, Family
Anti-Drug and Anti-Tobacco Show – K-6, Family
Pro-Reading – K-6, Family
Cultural Diversity – K-6, Family
Respect = No Teasing/No Bullying – K-6, Family
Horton Hears a Ventriloquist – PreK, K-6, Family
---
Secrets of Ventriloquism
The program that others have tried to copy, (even down to using almost the same title) but have not been able to duplicate.  Audiences see a highly educational and entertaining fast-paced show mixing comedy, music, interaction and information about ventriloquism and puppetry "secrets."  At one point, volunteers don wigs and must lip sync a rock oldie while Joe "throws" his voice into them.
Anti-Drug and Anti-Tobacco Show
Through the use of ventriloquism, this program contains statistical and memorable anecdotal anti-drug and anti-tobacco information.  Kids laugh at the funny stuff, listen to the serious stuff — and remember important points and information. Also includes anti-alcohol and anti-gang points all neatly framed within the context of a time-and-audience-tested FUN show.
Pro-Reading
The joy and importance of reading books (or even on computers!) stressed throughout.  Joe Gandelman is an avid, fervent reader and his lifelong love for books and reading comes across.  Ideal for Summer Reading Programs.
Cultural Diversity
Joe draws on his experience working and living as a reporter in Asia and Europe, and working as a US-Mexico border reporter to stress the importance, beauty, and cultural enrichment aspects of diversity.  He will touch on his visits to various countries (India, Bangladesh, Iran, Spain, Italy, Greece, England, Israel, Mexico, France, Israel and Afghanistan).  Anecdotal and statistical information included all expressed through Joe's Big Cast of Characters.
Respect = No Teasing/No Bullying
One of Joe's most popular, frequently re-booked programs.  It defines teasing and bullying, explains its impact on the victim and aggressor, stresses the importance of making good choices, the meaning and fact of consequences, and underscores zero tolerance for bullying.  (This has been highly popular at all grade levels, post particularly middle and junior high schools).
Horton Hears a Ventriloquist
An entertaining program that highlights the contribution of Dr. Seuss with Joe and his friends as they share stories from his popular books.