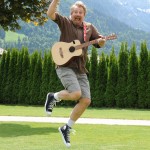 Dream Shapers is your one-stop shop for quality children's and family programming including k-5 elementary school assemblies, library shows, preschool shows, summer camp shows, and programming forcities and community eventsthat range from concerts and stage shows to roving or walk-around entertainment!  Our high quality shows will meet your expectations because our programs are offered by stellar, award-winning performers with years of experience in a variety of disciplines, ensuring that whichever artist you choose will provide you with interactive, entertaining, and educational performance.
Our presenters and performers offer shows in magic, juggling, mime, puppetry, storytelling, dance, balloons, trick roping, stilt walking, and more.  We offer thematic programming in Native American Dance, American Cowboy, African Drum Circles, Dance, and Storytelling, Irish songs and stories, multicultural shows, children's music concerts and more.  We offer a wide variety of thematic programs including: international themes,Christmas and Hanukkah, Presidents Day, Black History month, Native American month, St. Patrick's day, Earth Day, Fourth of July, Halloween, Thanksgiving and more.
All of our presenters are screened and vetted before joining our roster.  Presenters adhere to a code of conduct that is steeped in customer service and professionalism.  Our presenters are flexible and can customize their program to meet whatever your needs may be.
We have a $2,000,000 general liability policy that meets California PTA and Library requirements. This policy covers all the presenters and programs that we offer.  Additionally insured documentation is available at no additional cost to the client. All documentation is available upon request.
We are reliable, affordable, and we guarantee it!