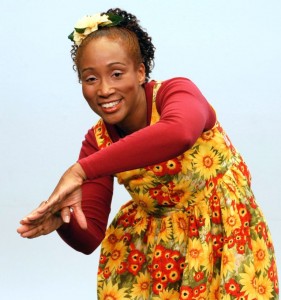 Ina Buckner-Barnette, The Sunshine Storyteller, weaves movement, songs, poetry, and international tales to create her special brand of sunshine stories.  Each of her inspirational programs is also available as interactive story making workshops.  Past venues for this award-winning actress, storyteller, and TV producer include a myriad of libraries, schools, festivals, and storytelling gatherings throughout California.  Ina also currently teaches adult English for LAUSD.  She shares interactive stories that ignite your imagination, tickle your funny bone, and make you shine like the sun!
All programs can easily be adapted to any venue and audience.  Ina gears her programs to create the maximum amount of participation and specializes in reading her audience's interest level to make modifications on the spot.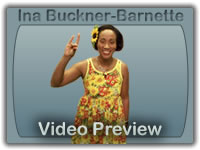 Programs Available:
Animal Crackers – PreK
Kaleidoscope – K-6
Talking Drums – K-6, Family
Winter Highlights – K-6, Family
Curiosities – K-6, Family
Reading Together is Twice the Fun – Parents and Teachers
Traveling Shoes – K-6, Family
Sunshine Drum Circle Stories – K-6, Family
---
Animal Crackers
A participatory collection of sound and movement games, animal stories, and songs from around the world.
Kaleidoscope
Interactive multi-cultural tales, poetry, songs, and story making activities to tickle young funny bones and excite imaginations.
Talking Drums
African and African American historical stories, folktales, poetry, and songs to celebrate Black History Month.
Winter Highlights
Multi-cultural holiday tales and sing-along activities focusing on the light and love in all of us.
Curiosities
A show of strange happenings, world mysteries, and ghostly tales with an interactive twist.
Reading Together is Twice the Fun
An interactive sharing of fun, practical, and inexpensive family literacy tips.
Traveling Shoes
Historical and biological stories of famous black people who have traveled for fortune and fame and to make their mark in history.
Sunshine Drum Circle Stories
A duet show with CHAZZ, the Great Percussionist!  A multi-cultural or Afro-centric interactive drum circle with storytelling, movement games and world rhythms using 20 djembe drums!