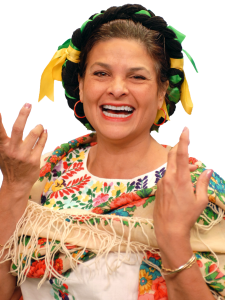 Georgette Baker provides bilingual (Spanish/English) children's and family shows featuring songs, stories, silliness and lots of audience participation.  She brings her rich experience of living and traveling throughout the world with her to each program and shares artifacts she has acquired on her journeys.
A certified teacher and world-traveler, Georgette Baker has performed on TV (Mr. Piggley's Playhouse and Los Niños en su Casa), movies, and has been performing for over 15 years.  A speaker of five languages (English, Spanish, French, Greek and Italian), with a passion for the unusual, Georgette has amassed a collection of artifacts and legends from her distant travels which she shares and allows everyone to enjoy.
Georgette's high-energy form of storytelling and sing-along songs will engage and captivate.  Her silliness is contagious as she invites everyone to interact join in dancing, playing instruments or to guide the audience through the movements of the story being told.
Programs Available:
South American Adventure – K-6, Family
Holidays from Around the World – K-6, Family
Preschool Fun – PreK
Silly Songs and Goofy Stories – PreK, K-6, Family
Where in the World Have I Wandered? – K-6, Family
Dia de Los Muertos – K-6, Family
Dia de Los Niños – K-6, Family
Cinco de Mayo Hispanic Heritage – K-6, Family
---
South American Adventure
An interactive, musical, and multicultural storytelling adventure where audiences experience the geography, music, cultures, legends, and languages south of the USA.  Georgette weaves stories and introduces scientific facts, biology, and artifacts into this participatory programs.
Holidays from Around the World
Customs, songs, and stories from different celebrated holidays during the month of December are part of this lively program, which includes holidays such as: Kwanzaa, Hanukkah, Christmas Posadas from Mexico, Germany's introduction of the Christmas tree, Russia's Babushka, Sweden's Festival of Lights, England and Australia's Boxing Day, and Eid al Fitr – a Muslim holiday.
Preschool Fun
Preschool Fun is designed for young children to be introduced to sing-along Spanish songs, instruments, and artifacts from South America and Mexico. Children will be taught songs like "Vengan a Ver Mi Granja," "Periquito," "Chocolate," be told the interactive beloved story Periquito, La Mariposa fingerplay, and show "molinillos" from Mexico, "bolos" from Argentina, and "Blue Morphos Butterflies" from Brazil.
Silly Songs and Goofy Stories
Georgette's contagious high energy and laughter makes this program a fun-filled time of zany, wacky wonderfulness!  Everyone will be in stitches as she shares silly stories and songs and gets audiences involved by playing instruments, movements, and dances as well as assist on stage in the stories.
Where in the World Have I Wandered?
The audience helps Georgette remember where she has been and where she needs to go.   Using her map, travel journal, souvenirs, and the audience, Georgette can put the pieces of the puzzle together.  An engaging and participatory walk around the world through songs and stories that amuse and entertain.  The use of a variety of instruments and an eclectic array of worldly tales and artifacts will have everyone wondering where they can wander.
Dia de Los Muertos
Dia de Los Muertos is about the celebration of life, which surrounds this special holiday with stories, songs, interactive instruments, and the building of a memorial altar.
Dia de Los Niños
This interactive bilingual program with fun stories and sing along songs reinforce the joy and pleasure of reading.  It promotes literacy and sparks children's imaginations as to what they can learn from books as well as recognize and respect culture, heritage and language through hands on tables of artifacts for family sharing.
Cinco de Mayo Hispanic Heritage
Join Georgette for this festive Mexican holiday, as she outlines the significance of Cinco de Mayo through song and story and celebrates the cultures and traditions of those who can trace their roots to Mexico,  Spain, and the Spanish-speaking countries of Central and South America.