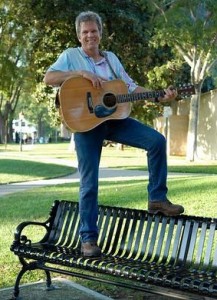 Dave Kinnoin is a nationally recognized children's music artist and for over 30 years has been providing kids music shows and concerts to events across the United States.  His kids music programs always begin with a bang and keeps on poppin'!   Dave pours boundless energy and a sparkling love for kids into every song.  He and his audiences boldly dance in a world filled with gorillas and butterflies, stinky toes and runny noses, parents and siblings.  At a Dave Kinnoin concert kids audiences from preschools and libraries have a rousing good time.  He can even provide a band for larger concert performances!
Dave Kinnoin is one of the hardest-working artists in the children's music business. As a Recording Artist on Song Wizard Records, he tours nationally to rave reviews and holds the coveted Parents' Choice Gold Award.  He's written hundreds of recorded songs for Disney, Nickelodeon, Sesame Street, The Muppets, and Henson Productions including some of the world's most recognizable children's songs.
Programs Available:
Music Injected Learning – K-6
Family Music Concert – K-6, Family
Gorilla Feet – Dave Goes Wild! – PreK, K-6, Family
Earth's Birthday: An Environmental Awareness Program – K-6, Family
Sing Out for Our American Heroes – K-6, Family
Create-A-Song– K-6, Family
Preschool Fun – PreK
Spooky Songs – K-6, Family
---
Music Injected Learning
Go with gusto on a journey through language arts, math, social studies, and science with this acclaimed Disney, Nickelodeon, Henson, and Sesame Street songwriter whose hundreds of songs have filled schools and homes for more than two decades.  This program features positive modeling for using songs to enhance the learning of all core curriculum.
Family Music Concert
Switching from guitar to piano to a capella to music tracks, Dave rouses the crowd with fun songs and encourages everyone to join in with him.  Songs topics are varied and creative from learning ways to be kind and generous to practicing good manners in public.  Audiences has a good time singing, laughing, and learning.  Concerts are available with Dave by himself, with a bass player, or with a full band.
Gorilla Feet – Dave Goes Wild!
Putting on "Gorilla Feet" (the title song off Dave'sFun-A-RooeyCD) is more than learning what this amazing ape eats and does.  It's all about believing you can swing from once incredible, creative adventure to another with a banana in one hand and your imagination in the other.  These songs will not only educate about the rainforest and other habitats, but also instills the idea that of being good earthly stewards.
Earth's Birthday: An Environmental Awareness Program
Dave Kinnoin "…makes environmental education come to life for children in a way that is engaging, magical, and meaningful", according to Mary Hofstedt of The Earth's Birthday Project.  He does this by singing and discussing songs from his award-winning album, The Earth's Birthday Sing-Along.  Songs range from silly ("look in your belly button—do you see a bug?" from Insect), to touching ("…Gotta save the endangered species. There's no time to hesitate. Gotta save the endangered species before it gets too late…" from Endangered Species), and to wild ("…kids one and all know how to boogie, how to have a ball" from Looks Like a Party).  Kids are encouraged and empowered to enjoy and protect our planet as they sing, "…No job is too big, no action too small, for the care of the Earth is the task of us all…" (from The Care of the Earth). Dave's program teaches while leaving plenty of time to smell the flowers and chuckle.
Sing Out for Our American Heroes
This program will have audiences singing-along to inspiring original songs about Johnny Appleseed, the remarkably kind and generous planter of apple trees from Pennsylvania to the edge of the frontier; Bill Pickett, the African-American rodeo star who invented bulldogging and amazed people all over the world with his incredible cowboy skills; and Helen Keller, who overcame deafness and blindness and taught millions of people to "keep your face to the sunshine… you won't see the shadows fall."
Create-A-Song
During this program, Dave and the audience will make up a brand-new song!  They will use their own personal rhythms, rhymes, melodies, and stories.  Sometimes poignant, often hilarious, these spontaneous creations help instill the notion that we can create more with our words than we might have thought.
Preschool Fun
This is a program specially designed for very young children to participate with Dave in a wonderful musical adventure.
Spooky Songs
Join in as Dave and his audience get together for spooky sing-alongs and haunting songs that talk about creepy crawlys and things that go bump in the night.