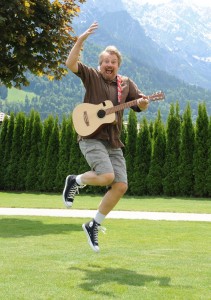 Dan Crow is one of America's most beloved children's and family music entertainers who has performed at preschools, elementary schools, libraries, music concerts and more for over 35 years.  He is an award-winning recording artists, star of Emmy award-winning "Just For Fun," a three-time Gold Parents' Choice winner, and CableAce nominated songwriter for his work on the Disney Channel.  He is seen regularly on Nickelodeon and The Learning Channel. Dan is a good buddy of Winnie the Pooh and Dumbo, for whom he has composed over a hundred songs, and performed the title song for the family classic film, "The Adventures of Milo and Otis."
As an educator, Dan Crow presents his " Reading, Writing and Rhythm" school assembly regularly and is a recipient of the prestigious PASA (Professional Artists In Schools) life-time achievement award. His concerts take him all over the United States, Europe, Asia, Australia and Canada.
This tall, lanky bearded "kid" uses music and stories to bring a love and respect for nature, a sense of humor, and a deep appreciation for the value of friendship and sharing to the world.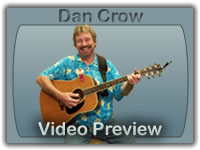 Programs Available:
Reading, Writing, and Rhythm – K-6
Songs and Comedy for Kids and Kin – K-6, Family
As the Crow Flies – PreK, K-6, Family
Big Bright Shirt – PreK, K-6, Family
Crisscross Applesauce – PreK
---
Reading, Writing, and Rhythm
Dan Crow's program consists of delightful participatory songs and stories, each concentrating on a skill in phonics or grammar. Based on audience participation, the performance offers a high interest phonic/phonetic approach to reading. It develops positive feelings of self-expression while creating and improving basic speech and language skills.
Songs and Comedy for Kids and Kin
Join Dan Crow and his guitar, Bob, as he offer up an energetic and hilarious batch of participatory stories and songs.  Great for the entire family, this program is ideal for festivals, fairs, and community events.
As the Crow Flies
Travel from Okinawa to Germany and from Iceland to Mexico with Dan Crow's original stories and songs.  Multi-cultural, multi-lingual, and multi-fun!  Themes include storytelling, music, and history.
Big Bright Shirt
Be-decked in his multi-colored "dream" shirt, Dan uses hilarious stories and songs to stir the imagination of children while enhancing their love of reading.  A show for all who want to DREAM BIG!
Crisscross Applesauce
A humorous program filled with stories and songs featuring language and movements for early childhood audiences, presented by Disney songwriter and entertainer, Dan Crow.  Themes include music, movement, and storytelling perfect for preschoolers and younger audiences.