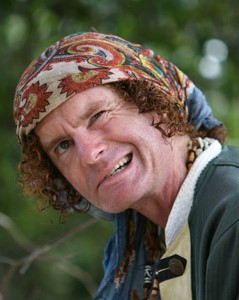 Christopher Yates is an international performance artist and comic actor with over fourteen years of full-time experience.  Drama and circus school trained, Christopher has performed on 4 continents in 3 different languages from corporate to carnival, theater to film.  He has appeared for such diverse clients as the BBC, The Lord Mayor of Sydney, Australia, and the President of Venezuela.
No matter what the age, he wins everyone's hearts.  Christopher has a commanding presence on stage and finesses the crowd like no other.  Audiences of all ages are captivated and entertained.  Christopher is both talented and experienced to gauge his audiences' needs and adapt his performance to suit the mood.  To every performance, he brings his lively personality, humorous demeanor, and organization.  Christopher never fails to deliver top results.
Programs Available:
Lord Rusty's Renaissance Show – K-6, YA, Family
Rusty Blades' Pirate Adventure – K-6, YA, Family
Ringmaster Rusty B Runs Away to Join the Circus – K-6, YA, Family
Dr. Rusty's Dinosaur Safari – K-6, YA, Family
Rhythm Master Rusty's Rock & Roll Circus – K-6, YA, Family
The Eco Show – K-6, YA, Family
Roving Entertainment – K-6, YA, Family
---
Lord Rusty's Renaissance Show
How were people entertained 500 years ago?  Gather your young Lords and Ladies to the roundtable of Lord Rusty for this unique, entertaining, and interactive program that teaches how princes and paupers were entertained in centuries past.  Learn theatrical skills from this time through audience involvement that asks "what is entertainment?"  It presents centuries old vaudevillian theatrics such as comic juggling, acoustic songs, magic, sport games, and more as relevant today as the computer or television.
Rusty Blade's Pirate Adventure
Let's venture forth on a mighty high seas expedition in pursuit of famed female pirate Arabella Drummond.  Audiences will find out what life was really like for a pirate.  Did anyone really walk the plank?  Learn about navigation and knots, barnacles, and booty.  Visit exotic ports from the Caribbean to Canton, meet strange creatures, encounter unscrupulous characters.  Will we capture our prize Arabella?  Come aboard and find out in this original and interactive program where the audience are the actors.
Ringmaster Rusty B Runs Away to Join the Circus
Come one, come all to see the greatest show on earth!  Let's gather under the big top to see a manner of circus performers from jugglers and unicyclists to stilt walkers and clowns.  See exotic performing animals of the world like elephants and lions (of the balloon variety).  Audiences will learn how to juggle and make their own juggling balls, simple acrobatics, and find out how the circus was developed and why so many have dreamt of running away to join the circus.
Dr. Rusty's Dinosaur Safari
A science based interactive, theatrical performance that tells the story of "Ty", a Tyrannosaurus who doesn't know if he's a Carnivore or a Herbivore. Through music, live puppet role play, experiments, and audience participation, this show teaches lots of cool stuff about the Giants of the Past. Get ready to get your Roooooaaaaar on!!!
Rhythm Master Rusty's Rock & Roll Circus
Roll up, Roll up or should that be "Rock Up" to the R & R Circus, a brilliant mix of comic circus and music, featuring all the circus performers you know and love, the jugglers, stilt walkers, acrobats and more. All backed by the "Kids Rock" band, playing instruments that you can find at home. Learn about music AND what it's like to be a real circus performer in this great fun, original, interactive show. Get ready to Cirque and Roll.
The Eco Show
Based on the great Butterfly Migration from Canada to Mexico.  Follow the brave butterflies as they struggle to deal with the new challenges of their movement.  Will their population be saved, or will this beautiful insect be lost to us all? The audience learns about the environmental dangers the great migration faces, and they attempt to solve them, save the butterfly and even the planet.  Through participation, the audience sees the butterflies make a great recovery, while learning about science-related environmental issues.  An interactive, educational program, with surprising elements of theatricality, juggling and music.
Whether it be a stilt walker, unicyclist, juggler, or magician Christopher Yates has a wide variety characters available for walk-around entertainment.  Choose from a number of fun, interactive "meet and greet" personalities inviting the audience into your event including: Dr. Seuss, Scarecrow, Star War's Wookie, Elvis, Abe "Longkin," Woody McCloud the Scot, Longer John the Pirate and more football, basketball, medieval, Americana type characters you can think of!