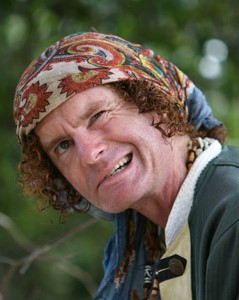 CHRISTOPHER YATES is an international performance artist, comic actor and musician.  Drama and circus school trained, Christopher has performed on four continents in three different languages in a range of performance genres from corporate to carnival, theater to film for over twenty years. He has appeared for such diverse clients as the BBC, The Lord Mayor of Sydney, Australia, and the President of Venezuela.
His library and school assembly programs are specially designed to both entertain and educate. Christopher offers a range of fun, original theme based interactive theatrical performances. His programs feature multi disciplined skills, which he uses to engage the audience and enhance the delivery and understanding of the theme. All Christopher's performances encourage the audience through fun engaging comedic delivery, participation, skills and to continue their own research of the theme post performance.
Programs Available:
Lord Rusty's Renaissance Arts Show – K-6, YA, Family
Rusty Blades' Pirate Adventure – K-6, YA, Family
Ringmaster Rusty B Runs Away to Join the Circus – K-6, YA, Family
Dr. Rusty's Dinosaur Safari – K-6, YA, Family
Rhythm Master Rusty's Rock & Roll Circus – K-6, YA, Family
The Eco Show – K-6, YA, Family
Roving Entertainment – K-6, YA, Family
---
Lord Rusty's Renaissance Arts Show
Gather your Lord and Ladies to the round table of Lord Rusty. Learn how one and all, from Princes to Paupers, were amused and entertained in bygone times. Remember, no television, no internet, no X box?! Whatever did people do?? Featuring theatrical skills from times past including theatre, juggling, magic, music and much more, we will learn that despite the internet or television, centuries old traditions of vaudeville, comedy and more are as entertaining then as they are today. After all, live theatre is entertainment, television, is furniture?!
Rusty Blade's High Seas Pirate Adventure
Let's venture forth on an exciting high seas expedition in pursuit of non fictional Pirate, Arabella Drummond.. What was different about this Pirate? Arabella was a girl?! Learn what life was really like for a Pirate 300 years ago in this historically based interactive, theatrical, musical performance. Did anyone really "walk the plank?" Learn about navigation and knots, barnacles and booty. Visit exotic ports from the Caribbean to Canton. Meets strange creatures, encounter unscrupulous characters, all played by the audience. Will we capture Arabella? Weigh the anchor, up with the sails, come aboard and find out matey!!
Ringmaster Rusty B Runs Away to Join the Circus
Come one, come all to see the greatest show on earth!  Let's gather under the big top to see a manner of circus performers from jugglers and unicyclists to stilt walkers and clowns.  See exotic performing animals of the world like elephants and lions (of the balloon variety).  Audiences will learn how to juggle and make their own juggling balls, simple acrobatics, and find out how the circus was developed and why so many have dreamt of running away to join the circus.
Dr. Rusty's Dinosaur Safari
Tells the story of "Ty", a Tyrannosaurus who doesn't know if he's a herbivore or a carnivore?! How can this be. Watch and Ty meets lots of Dinosaur friends who have found themselves in Jurassic sized predicaments. Will Ty help them out, or will he discover he is in fact King of the Carnivores? A great fun, original, theatrical, science based look at the giants of the past. This show features puppetry, role play, lots of music, participation and is guaranteed to both entertain and educate. Get ready to get your Rrrroooooooaaaaarrrr on!!!
Rhythm Master Rusty's Rock & Roll Circus
Teaches both the fundamentals of music AND what it's like to be a real circus performer. Featuring all the circus performers you know and love; the jugglers, stilt walkers, uni-cyclists, acrobats and more. All backed by the "Kids Rock Band", (members of the audience playing instruments that you can make and find at home), playing to real live music to introduce the next circus performer. We will learn the basics of many of the skills that circus artists use in their everyday "work". Get ready to, "Cirque and Roll", (literally), in this great fun, highly entertaining, original "BIG TOP ROCK" show.
The Eco Show
Based on the great Butterfly Migration from Canada to Mexico. Follow the brave butterflies on their amazing journey, as they struggle to deal with new challenges to their environment. Will their population be saved, or will this amazing creature be lost to us all. We learn about the environmental dangers facing not just the migration, but our entire planet, and how to solve them. As these problems are solved we see the migration make a recovery, and in turn save the planet for us all. A highly interactive, program featuring surprising elements of juggling, music, and theatricality that highlights perhaps the great issue of our time.
Roving Entertainment & Characters
With years of international festival and street theatre experience, Christopher has created a range of world class, original roving acts and characters that are completely unique. From internationally renowned comic stilt walking "personalities", to roving juggling, uni cycling, "magic" and more. All his roving performances are complete "moving shows" that is HIGHLY interactive, comedic, visual and feature recognizable characters. All designed to leave the audience with a unique theatrical experience and enhance the public perception of any event.  Ask for a list of stilt characters and more.