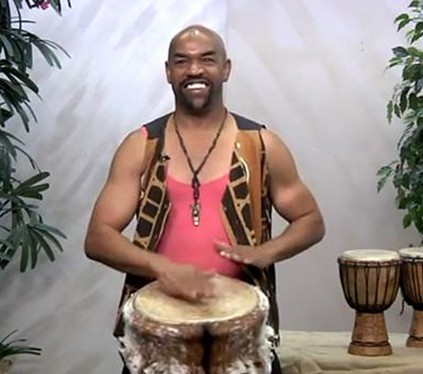 Clarence "CHAZZ" Ross offers African Drum and International Drum experiences featuring the djembe drum.  His African or International percussion, drumming and drum circles will magically channel each audience's internal rhythms to enrich their words, music and dance.  Audience members will have the opportunity to play djembe drums as part of the drum circle that Chazz will instruct and lead.
His technical showmanship reflects forty years of achievements in African music & dance and Latin percussion.  He plays African and Latin instrument combos – with bursts of excitement!  His mastery of exotic stick, hand, and wind instruments such as didgeridoo, djembe, congos, bongos, timbales, singing bowls, and harmonica.
CHAZZ has performed at the LA Opera, Aquarium of the Pacific, and Skirball Cultural Center to name a few. He mentors young, disadvantaged, senior and special-needs people in libraries, alternative schools, missions, juvenile halls, probation departments and senior-citizen centers -while guiding dynamic, interactive Drum-Circles.

Programs Available:
Modern Drum Circles – PreK, K-6, Family
Preschool Drum Fun – PreK
Heart Beats: The Benefits of Drumming– K-6, Family
Sunshine Drum Circle Stories – K-6, Family
African Drum & Dance – PreK, K-6, Family
---
Modern Drum Circles
Discover the Universal Rhythm!  CHAZZ guides audiences on a colorful safari with 20 African djembe volunteer drummers.  Everyone is fascinated by immediately creating jungle sounds and playing simple rhythms while singing together.  CHAZZ discusses the history and benefits of drumming.  This participatory program has drummers realizing that the "heartbeat" is the universal unifying rhythm that is always present with them – they only have to look inside
Preschool Drum Fun
This highly-interactive program of drumming and rhythm is tailored specifically for younger drummers ages 3-5.  Young imaginations explore the wonderful world of percussion.
Heart Beats: The Benefits of Drumming
CHAZZ describes the physical and mental health benefits of steady drumming in a dynamic interactive drum circle workshop.  He shows how drumming restores energy and releases tension and stress.  Volunteer drummers attune to the powerful synergy created as playing collective rhythms unite them.  Drumming also deepens a bond the rhythm of Earth as drum sounds may represent rain drops, a crack of lightning, pounding ocean waves, or the tumult of an earthquake.
Sunshine Drum Circle Stories
A duet show with Ina Buckner-Barnette, The Sunshine Storyteller!  A multi-cultural, Afro-centric interactive drum circle with storytelling, movement games, and world rhythms using 20 djembe drums!