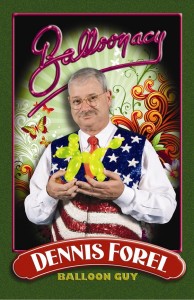 Dennis Forel offers "Single Balloon Twisting" shows and roving entertainment idea for libraries, schools, city and community events.  Dennis Forel is one of America's foremost Balloon Sculptors and since 1975 has been entertaining children's and family audiences throughout the country.  As a  balloon twister / sculptor, he as a repertoire of over 108 different animals, has taken him to state and county fairs, amusement parks, shopping centers, and special events throughout the Western U.S., Alaska, Mexico, Japan, and the Bahamas.  Dennis has also co-authored a booked on making animals out of balloons titled "Balloonacy-The Art of Air Sculpture" which later turned into a video of the same name.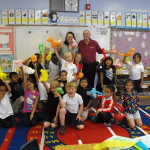 Programs Available
Balloonacy for Kids – K-6, Family
Balloonacy: The Art & Science of Balloons – K-6, Family
---
Balloonacy for Kids
Dennis Forel is well known for the fun narratives that go along with his amazing animal creations.  Join Dennis as he twists and turns balloons into delightful animal characters with his interactive, comedic stories.
Balloonacy: The Art & Science of Balloons
America's single foremost balloon specialist brings to life the art of balloons.  Dennis touches on origami, caricature, proportion and measurement.  The science components of his shows incorporate physics, zoology and paleontology.