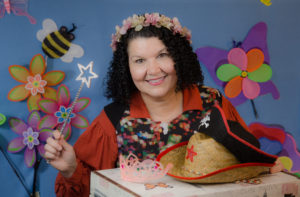 Award-winning singer/songwriter, Auntie Kayte (Kayte Deioma) brings her creative songs and stories for conscious kids to libraries, preschools, schools, city events and festivals around Southern California.  Auntie Kayte enchants children in the manner of Mary Poppins, pulling props and costumes from her magic treasure chest to turn kids into family-friendly pirates, smart princesses and more. Her irresistibly catchy songs use the power of music and words to plant seeds of self-confidence, creative thinking, responsibility and social consciousness in kids from preschool through grade school with a melodic voice that transitions easily from high energy reggae and calypso to folk ballads and even a marching band.  Auntie Kayte performs solo or with a live band.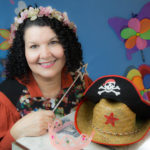 Programs Available:
Upside-Down Fairytales – PreK, K-3rd
When I Grow Up – K-6
The Best of Me – K-6
Create the World You Want – K-6
---
Upside-Down Fairytales
Interactive role-play songs that break stereotypes about traditional storybook characters, opening up philosophical, ethical and aspirational discussions among kids as young as 3. Includes songs and stories that promote a love of words and reading.
When I Grow Up
Features interactive songs in diverse musical genres that promote positive career aspirations and a can-do attitude.
The Best of Me
This program includes songs that provoke discussions and promote a positive attitude and self-image, healthy lifestyle, pro-social behavior and positive mental health practices.
Create the World You Want
This program focuses on imagination and the individual's role in taking responsibility for their own environment, contributions, thoughts and feelings, empowering them to make positive choices for themselves and the planet.