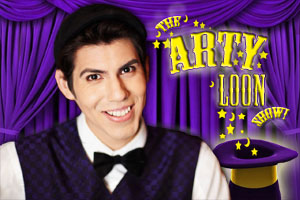 Arty Loon's shows include juggling, balloon twisting, puppetry, comedy and magic.  Arty Loon provides children's and family entertainment for audiences from full stage shows to preschool programs and from school assemblies to roving entertainment!  His energetic presentation has everyone enthralled right from the start as he takes audiences on an adventure that is non-stop until it ends.  Arty Loon features lots of audience interaction, participation, and laughter.
Arty Loon has 18 years of experience and 100's of shows under his hat.  He is one of Southern California's favorite family entertainers.  Arty studied in the Magic Castles Junior Magicians program which has produced some of the world's finest magicians.  He has performed at the world famous Magic Castle, for MTV,  Make-a-wish, Disney, NBC/Universal, Michael Jackson, Star Education Programs, Google, Michelle Obama and many more! See for yourself why Arty's brand of magic and variety entertainment has taken him all over the world!
Programs Available:
The Arty Loon Show! – K-6, Family
Juice Box Preschool Show – PreK
Roving Entertainment – K-6, Family
---
The Arty Loon Show!
This program consists of hilarious antics that include tons of audience participation!  Balloons, magic, juggling, and puppetry packed into one show that will surely leave audiences in stitches.  Everyone will enjoy watching, participating, and learning about all the different art forms presented in this fun-filled adventure through their imagination.
Juice Box Preschool Show
Adjusted for younger audiences, this program captures the attention of preschoolers with hilariously wacky antics.  Children will mesmerize at the balloons, magic, juggling, and puppetry that will leave them wanting more.  Everyone will enjoy watching, participating, and learning about various art forms presented.
Roving Entertainment
Have Arty display fantastic feats of dexterity right in front of your eyes!  From balloon twisting to walk-around magic to juggling, Arty is definitely the one-man party!  Great for city and community events, fairs, and festivals.