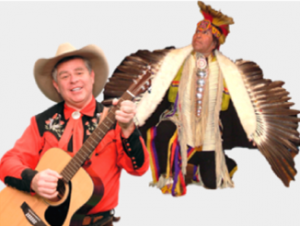 The American West bring a Wild West style show to your school or event and features American Indian dances and songs along with Cowboy songs and stories and trick roping. This action-packed, fun-packed, and education-packed school assembly will foster an understanding and deeper appreciation for these two great American Icons.  Experience what audiences for over 100 years have been experiencing all over the world as Cowboy Ken and Ben Hale take you back in time to the Great Plains of America and the great American Cattle Drives.
Cowboy Ken performs with his guitar, branding iron, and trick ropes.  He shares the life of the American Cowboy with true historical facts, thorough explanation, and depiction of their character and values by singing old cowboy songs, telling stories from the prairie, and demonstrating the Old West art of trick roping.
Ben Hale, a member from the Navajo tribe of Arizona, has been dancing since he was young.  Ben's parents taught him the importance of culture and traditions through customs passed down through the generations. Dance and stories are an integral part of American Indian life and he educates and amazes as he shares them.  He regularly performs at the Indian South West School, Knott's Berry Farm and Gene Autry Museum in Los Angeles.
Programs Available:
American West – K-6, Family
---
The American West
The American West Show brings to life two of the most iconic images of America to the world, American Indians and Cowboys, in an traveling Wild West style show featuring Native American dance, music, and cultural expression along with American Cowboy songs, tales, historical facts, and trick roping.  Audiences are exposed to dances including the Eagle, Horse and famous Hoop dances as well as Old West roping tricks such as the butterfly, one-foot spoke hop, and big loop spin all from the late 1800's.  This educational, entertaining, and participatory program provides an engaging theatrical experience from which audiences can grow their impressions and understanding with positive images of Native Americans and American Cowboys.