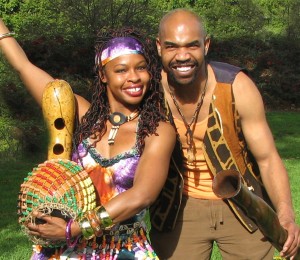 African Drum and Dance presented by CHAZZ and Teresa is a colorful and exhilarating experience into the world of African rhythms, songs, and stories.  Children's and family audiences will enjoy this lively presentation as either part of the drum circle or  as part of dance troop.  Whether for a library program, school assembly, or festival stage shows to, everyone will feel the rhythm of the Serengeti sun in this African Drum and Dance experience.
CHAZZ:  African drumming and rhythms presented by CHAZZ who offers an awesome performance with teaching that reflects his expertise in African music.  He brings 26 djembe drums for audiences to participate and experience a variety of rhythms.  African drumming is not only enhanced by his technical showmanship, but also by his inclusion and mastery of exotic stick, hand, and wind instruments which include: congas, bongos, timbales, djembe, dijeridoo, udo, kalimba, whistles, flutes, temple blocks, singing bowls, and harmonica.  Since CHAZZ's teaching level commensurate with the audience's maturity, his African Drum presentation, in this program, supports the stories and dances while adding fun and education to this show or school assembly.
Teresa:  African dance and stories are brought to life with Teresa demonstrating and including her audiences in the activities.  Whatever the dance style, Teresa performs it beautifully – from the grace of French ballet to the sweat of African pulsating.  She uses her gifted polycentric body to exude the "segmented inside movement" traits of complex African dance also the "movements through her whole body space," important in European choreography.  To honor her ancestry, she mastered these intricate techniques under famous instructors from Senegal, Guinea, Cameroon, and the Congo.  As a dance choreographer, performer, and aficionado, Teresa shows that African dance is among the most stylized and complex art forms in the world.

Program Available:
African Drum & Dance – PreK, K-6, YA, Family
---
African Drum & Dance
CHAZZ and Teresa provide a musical demonstration of dance and percussion where 20 volunteers come up at a time and try their hand at drumming on authentic djembe drums.  Teresa instructs the dance volunteers to move and sing as they follow the beats that CHAZZ teaches the drummers.  Their simple drumbeats create a pulse that holds the music and dance together.  CHAZZ and Teresa describe and mimic traditional dance movements and standard rhythms using basic musical jargon in this exciting, interactive program.